Strawberry Plug Plants
Since the early 2000's McNitt Growers have been producing high quality fall planted strawberry plug plants. We've adopted our plug growing style from experts in Nova Scotia, Prince Edward Island, Canada and North Carolina nurseries.
These perfected techniques allow us to efficiently produce the highest quality strawberry plugs and pass the savings along to our customers.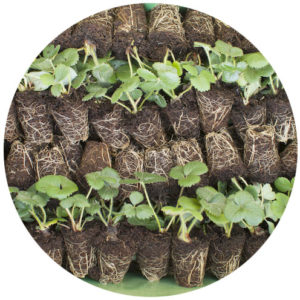 Chandler
The vigorous, high-yielding, June-bearing Chandler strawberry plants produce very desirable strawberries.  Chandler strawberries are very large, firm, and produce early-season to mid-season.  The strawberries vary from being long and wedge-shaped to large and conical.  They are a brilliant red color, glossy, and have an exceptional flavor profile.
Ruby June
Early season. Ruby June produces a large, moderately firm, conical fruit. The fruit is red in color and has an exceptional flavor.
Albion
Symmetrical, large berries have intense red color inside and out. Their beautiful appearance is matched only by their exceptionally sweet taste. This may be why Albion Strawberry is becoming a very popular berry with market growers. Its fruits are excellent for fresh eating, pies, preserves and freezing. An everbearing variety, Albion strawberry exhibits resistance to verticillium wilt and phytophthora crown rot.
Ask us what variety is best suited for your farm. We work with customers of all sizes. Plugs are ready at the end of August through the first of October.
Shipping options include:
(Pricing does not include shipping)
Customer pick up,
UPS
FedEx
LTL
Grower truck.
We start booking plug orders in June of each year. Please feel free to contact us for more information.
Strawberry Fertilizer Information
McNitt Growers is proud to offer Plant Marvel Laboratories, Inc. water soluble fertilizers. Plant Marvel offers a wide variety of complete fertilizer for all your crop needs.
For strawberry growers, either 12-5-19 or 14-5-22 has been the preferred formulas for their strawberry production program. Both formulas provide a complete nutritional package in a single bag. This simplifies a growers' life.
Growers can be provided a week by week recommendation of fertilizer to apply. This recommendation is based off the number of plants in a field and the required amount of nutrients a strawberry plant requires at each stage of the growing cycle. Minor adjustments may be needed, based off petiole sampling.