The legacy that is now known as McNitt Growers began when company founders, Martin and Dolores bought a 138-acre orchard in Carbondale, IL in 1987. The first greenhouse was constructed in 1992.
Over the years Martin and Dolores transformed the farm from an orchard into a greenhouse and a strawberry plant nursery business. Starting with a modest 10,000 sq ft greenhouse, they expanded their greenhouse into a 1.2 acre wholesale and retail facility. Each spring they produce an array of spring and summer flowering annuals available in flats, 4" pots, 5" pots; 10", 12", and 14" baskets and an amazing variety of planters. In the fall they produce the regions best strawberry plug plants.
In 2009 Andy purchased McNitt Growers, LLC from Martin and Dolores. What began as a small wholesale and retail business has transformed into a 1.4 acre greenhouse operation and the largest strawberry plug nursery in Illinois.
Ornamental Plants
Since 1992, our family has been committed to selecting and growing only the best selections of annual plants for our area. We offer the following varieties below: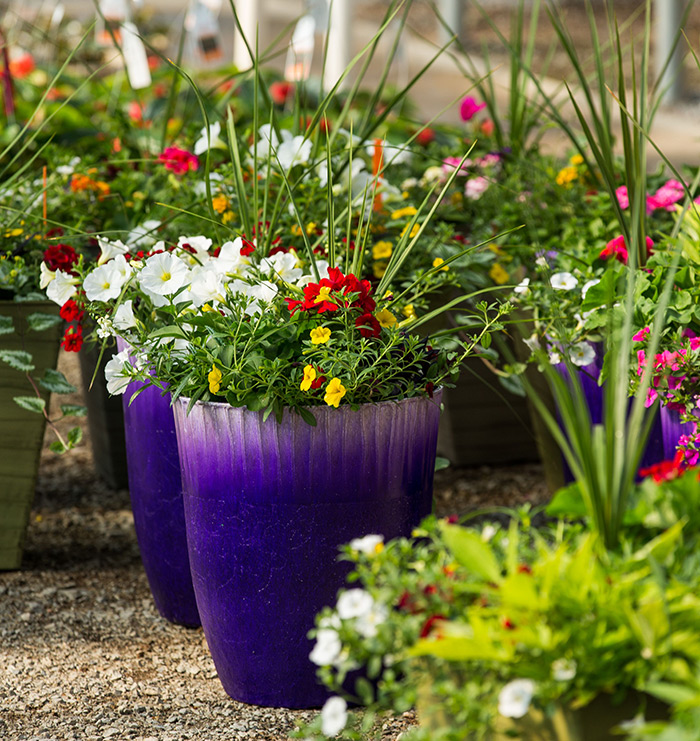 Our plant list changes from year to year, so please feel free to contact us if you have questions concerning a specific plant. We strive to produce premium products and customer satisfaction.
Strawberries
McNitt Growers specializes in growing fall produced strawberry plug plants for farms across the country. Utilizing different varieties, we can accommodate U-Pick, fresh market and wholesale strawberry farms' needs. Chandler, Camarosa, Sweet Charlie, Camino Real, Fronteras, Ruby June, Albion and San Andreas are varieties that we offer each fall. Sometimes we can get limited quantities of other varieties as well. Call for additional information.
Due to the custom nature of this business customers are encouraged to place their orders starting in June through the early part of July. This process helps ensure that orders can be filled and grown in time to meet each farms' planting window. Our plants are typically ready to ship around September 1st through October 1st each fall. The following options are available for shipping:
Customer pick up
Company trucks
LTL and UPS
Customers
Through consistent quality, a broad product line and customer service we have a good reputation with both our wholesale and onsite retail greenhouse business customers. Many of our customers are from the local area here in Southern Illinois, but we also attract and work with businesses and individuals from Missouri, Kentucky and Indiana. That same reputation applies to our strawberry plug plant customers. Strawberry growers from around the country rely on our plants each year.
Business Hours
Our greenhouse opens for retail each spring on April 1st and runs through the 3rd week in May. Due to the wholesale nature of our business, retail customers will find the best selection of plants in early April. The selection becomes more limited in early May. Our business hours are:
Monday through Saturday 8 AM to 5 PM
Sunday 1 PM to 4 PM
We hope to see you here!

– Andy McNitt

– Bill McNitt